Download XTCS Counter-Strike 1.6 Non Steam Final Release 2011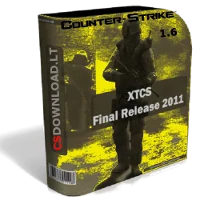 XTCS counter-strike
A new revision called XTCS counter-strike Team gathered all those maximum specifications of the original toys. Developers have crippled from half-life 1 engine almost everything possible to achieve the highest performance. Now the game differs from the normal version 1.6 not only enhanced textures and more dynamic sounds but also surpasses the original in modeling. It can be said that the creation of Valve Software, in conjunction with the Team of his worthy XTCS the viewer in the face of the inveterate gamer.
Download the XTCS Counter-Strike 1.6 you can on any gaming resource that provides such services, such as our website. This game cs 1.6 is everywhere on the Web, has many mods, upgrades, and additional resources (maps, weapons, player model). So far, the basic version of cs 1.6 XTCS is included in the programs of many kiberturnirov.
XTCS Counter-Strike 1.6 Final Release 2011 since new and little-known yet but a very quickly growing it's popularity, not only among a narrow circle of players who tried as quickly as possible to improve your skills in this game but also among millions of fans and already fans of counter-strike 1.6, which, in spite of the sharp battles unfolding between the teams, dreaming to join them passed a lot of time. Now the level of realism and quality of this game has reached almost ideal.
Game title: XTCS counter-strike 1.6 Final Release 2011
Genre category: Action/first-person shooter
Authors: Valve Software in conjunction with XTCS Team
Publishing Group: XTCS Team
Release date: Mar 7, 2011
Interface language: English
Game modes: network (Internet, local area network, single bots)
Operating system support: Windows wista/xp/7/8/8.1/10